Christmas in North Yorkshire
Santa Specials
 Get Ready for the Ultimate Christmas Adventure!
25 & 26 November, 2 & 3, 9 & 10, 16 & 17, 23 & 24 December
Guess who's on his merry way to the North Yorkshire Moors Railway? It's none other than Santa Claus himself, and he's bringing the magic of the season to life!
Imagine stepping into a world of enchantment as you and your family join Santa and his team of playful elves on board The Santa Express, to whisk you away on an unforgettable journey filled with laughter, joy, and plenty of holiday spirit.
Your little ones are in for a treat! Starting from either Pickering or Grosmont Station, and get ready for a magical ride like no other where you will create cherished festive memories with your family. Whilst onboard Santa himself will make his way through the heritage carriages, giving kids the chance to meet him. But that's not all – every well-behaved child will receive a special soft toy present as a token of Santa's appreciation for being on the nice list this year.
You won't want to miss out on this fantastic holiday experience happening on November 25th, 26th, and December 2nd, 3rd, 9th, 10th, 16th, 17th, 23rd, and 24th. The clock is ticking, so book your tickets now and let the festivities begin!
Pickering Departure Times: 09:55, 11:25, 13:00, or 14:55
Grosmont Departure Times: 10:00, 11:30, 13:05, or 15:00
Enjoy a Christmas day out like no other at Castle Howard! Tinker Bell has sprinkled fairy dust all over our House, and transformed Castle Howard into a beautiful winter wonderland.
12th November – 2nd January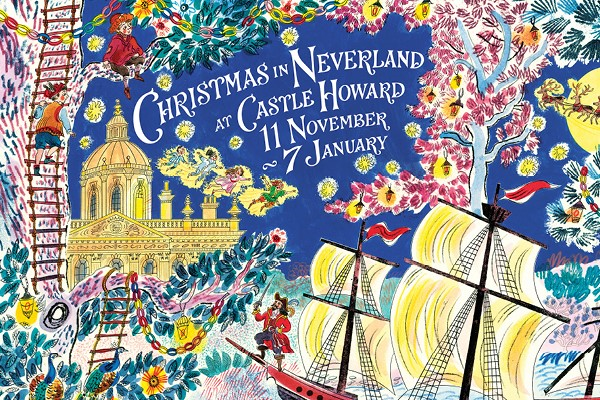 The York Christmas Market returns 16th November to 22nd December 2023
Enjoy the Christmas cheer on offer in one of the UK's most festive cities as York's restaurants, shops .
Malton St Clement's Festival
Saturday 25th November 2023
10am – 8pm
The first of its kind in Yorkshire, this inaugral St Clement's Festival is set to be a celebration of Malton's host of craftspeople, the Autumn and St Clement, the patron of blacksmiths.
There will be a whole host of activities planned throughout the day including sculpture and art trails, light shows, a variety of musical performances with singing and dancing, and of course, delicious treats from Malton's eateries.
Free entry
By 10.00am: decorated avenue of trees and sculpture trail set up
By 10.00am: Local shops, cafes and hospitality outlets open with themed offerings
11.00am: demonstrations drinks, treats, displays, tastings and hands-on in Market Place and The Cook's Place
11.00am: music program includes wandering minstrels, St Michael's Church and Market Place.
12.00noon: Craft, storytelling and lantern-making family/children's workshop tent opens
4.00pm onwards: as dusk falls, illuminated tree avenue comes to life
6.00pm onwards: Procession of children's lanterns led by the marching band
6.30pm: Son et Lumiere in the Market Place and the Grand Finale
7.30pm onwards: Late night shopping
Then there will be plenty of time to enjoy the festive hospitality of Malton's many bars and restaurants to carry on the festive cheer until later on!
8th to 22nd December 2023
The hugely popular Sewerby Winter Woodland is returning! An all-new spectacular display of lights, sounds and special effects will bring the grounds to life for a great evening out this festive season.
18th November to 24th December 2022
Join the Elves at Piglets Adventure Farm for a magical sleigh ride through the woodland, an all-singing all-dancing elf show and disocover the delights of the woodland village. Near York.